Resurfacing Hip Replacement Surgery
What is a Hip Resurfacing?
Hip resurfacing is a special type of Total Hip Replacement that replaces the two surfaces of the hip joint, A standard Total Hip Arthroplasty (THA) involves removal of the femoral head at the base of the femoral neck and a metal stem is inserted into the top of the femoral shaft. A resurfacing operation removes only the damaged cartilage and underlying bony surface from the surface of the head or ball of the femur. This is then replaced with a metal spherical cap. The damaged, arthritic surface of the acetabulum or socket of the hip is replaced with a titanium shell as with a THA. The liner of the shell is a highly polished socket and the polished femoral cap articulates with their liner. These two new surfaces form a Metal-on-Metal bearing (MoM). This is called a 'Hard Bearing', and is associated with very low wear rates.
The benefits of hip resurfacing include:
a viable treatment for younger, more active patients
earlier intervention
bone conservation
lower incidence of hip dislocation
improvements in activity levels, hip scores, particularly in younger men.
more reliably recreates natural hip biomechanics
easier femoral revision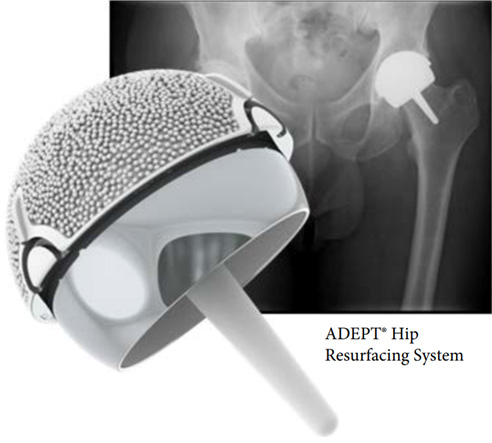 Resurfacing thus provides the patient with a hip replacement that has a low wear rate, a very good range of moment and is very stable due to the large diameter of the ball and socket joint.
Activity
Patients are allowed to return to a wider variety of sporting activities without restrictions earlier than conventional THA. Patients report a high level of activity including running and tennis, the UK player Andy Murray has a hip resurfacing.
Stability
The larger diameter of the ball and socket (bearing) that is afforded by hip resurfacing reduces the risk of dislocation over conventional THA throughout its life.
Revision
When a conventional THA wears out and needs to be revised, or changed to a new construct, the operation can be extremely lengthy and invasive involving opening the femoral shaft to remove the old stem. This is associated with higher infection rates, dislocation rates and a longer post-operative recovery. Revision of a hip resurfacing however, is far simpler as the native femoral head, neck and upper femur are uncompromised. Thus revision of the femoral head resurfacing is essentially a conventional THA and is a quicker, less invasive procedure with recovery similar to a primary THA. This is more appealing to the younger patient who is likely to require repeat surgery in their life.
Longevity
National Joint Registries have shown that revision rates of any hip replacement is higher in younger male patients, but that hip resurfacing in younger male patients is lower beyond 15 years than for conventional THA.
Brand of Resurfacing
Anyone performing an internet search of Hip Resurfacing or Metal on Metal will quickly find the historic issues of MoM bearings. There are some MoM hips such as the Birmingham Hip Resurfacing or the Adept Resurfacing (MatOrtho) that have an excellent record of low wear and low revision rates. However, there have been many copies of the BHR since its release that have not fared so well. Subtle design changes and materials have created some resurfacing implants that wore out much earlier than expected. The metal wear that was created (ALL bearings will wear over time creating wear debris) was toxic to both bone and soft tissues. The most notable was the ASR resurfacing by DePuy. These hips had catastrophic failures creating major problems for patients. As resurfacing is usually recommended in younger more active patients, these failures were often disastrous for these patients, with major bony and soft tissue destruction, requiring complex revision and joint reconstruction, often with poor outcomes.
As such, MoM fell out of favour around the world, with only a few surgeons continuing to perform the operation, achieving excellent results using the few implants that have a high record of success. Dr Thornton-Bott uses the Adept resurfacing implant as it has a high success rate with low revision rates.
The Future
Recently, MatOrtho, who produce the Adept have been developed a new resurfacing using ceramic on ceramic (CoC) as the bearing surface. This is also a hard bearing surface and is used widely in standard THA with excellent results. Ceramic wear debris does not cause tissue or bone damage. As such, the advantages of hip resurfacing is available without the risks associated with MoM wear.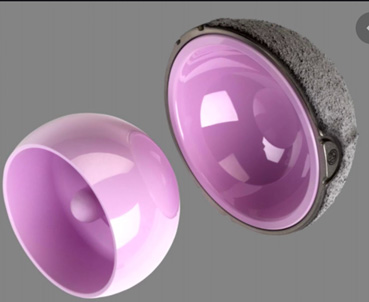 These CoC resurfacings are in their infancy and are being trialled in many centres around the world. It will likely be another year before trials are completed and the implants have proven themselves to be safe and be made available to the general public.
If you are interested in Hip resurfacing, Dr. Thornton-Bott will be happy to discuss this with you. Please call 1300 208899.