Hip Pain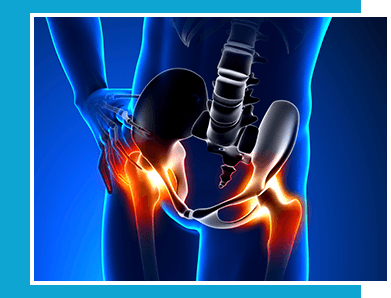 Hip pain can come from several sources.
Damage to the soft tissues around the hip such as the ligaments, muscles, joint capsule or the bursa. This can be from injury, arthritis or inflammation.
Damage to the cartilage that makes up the smooth surface of the joint, called articular cartilage. This is most commonly from osteoarthritis but can be due to injury.
Damage or injury to the bone of the joint. This is most commonly a fracture or break of the bone.
Referred Pain. This is often from the lower back. The nerves can get irritated in the lower spine and often causes sciatica or leg pain. If certain nerves are irritated the brain registers this as pain in the hip.
Failing Total Hip Replacement. Hip replacements usually last a lifetime. However, if put into young patients the hip replacement can wear out. Occasionally a total hip replacement can work loose or fail. This often causes groin or thigh pain or both. If your hip replacement is painful, it should be assessed by a surgeon who specialises in Revision Hip Surgery.